SINCLAIR HILLE WELCOMES KATE BRASHEAR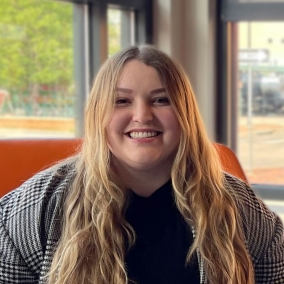 SINCLAIR HILLE WELCOMES KATE BRASHEAR
Sinclair Hille Architects is pleased to announce that Kate Brashear has joined the firm as an Architectural Associate. Kate graduated from the University of Nebraska-Lincoln (UNL) College of Architecture with her Bachelor of Science in Design with an Environmental Studies concentration in May 2023.
Kate will be continuing her education through UNL in the fall to receive her Master of Architecture. She has worked as a teaching assistant and research assistant for the last three years and is passionate about sustainability, social equity, and the improvement of diversity/inclusion within the field of architecture.

Kate was asked about the most fun she's had in the Sinclair Hille Architects studio. She stated, "I really enjoy project exchanges because I'm able to get a glimpse at a variety of ongoing work. Understanding how others go about designing really helps me to grow and develop outside of an academic setting."
When asked what gets you up in the morning, Kate responded by saying she gets up each morning knowing that the work she is doing actively shapes and improves the lives of people who interact with it.