Shubert celebrates four years at SHA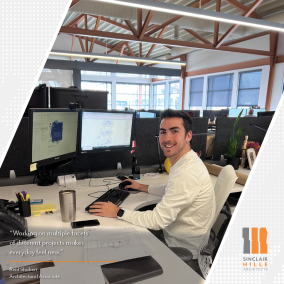 Shubert celebrates four years at SHA
Reid Shubert, Architectural Associate at Sinclair Hille Architects (SHA) celebrated his 4th year at SHA. Reid received his Bachelor of Science in Design from the University of Nebraksa - Lincoln (UNL) College of Architecture and will be graduating in May of 2024 with his Masters in Architecture.
Currently, Reid is part of the project team for NRC Health headquarters renovation https://www.sinclairhille.com/headquarters-renovation on 13th and Q Street in Lincoln, NE. He enjoys working with clients to generate creative solutions that positively impact their day-to-day experiences.
When we asked Reid what his favorite memory has been so far at SHA he said, "It's hard to choose one specific moment, as there are a handful of memorable experiences at SHA. Instead, I would say, the most memorable parts of my job are visiting a job site or driving past a completed project I had worked on and enjoying the satisfaction of knowing the personal effort I gave was worth it."
Reid enjoys working with a variety of people and clients, feeding off of their energy and excitement while working through the design process then creating an excellent project that makes a positive impact throughout their future.