Raymond Brothers gains new tenant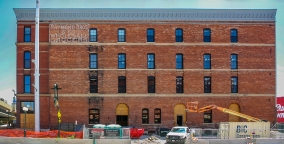 Raymond Brothers gains new tenant
Working with BiC Construction, Sinclair Hille Architects is transforming this 1885 structure into condominiums with modern amenities and first floor retail.
Currently under construction, the project will include more than 8,000 square feet of first-floor commercial space. The upper floors will include about 13 condos. Each condo will range from 875 to 1,393 square feet, with 12- to 13-foot ceilings and a rooftop terrace. The building, located at 801 O St. is directly east of the recently completed, Schwarz - Luxury Condos.
Additional Information
General Contractor: BIC Construction
Craig Geis & Boyd Batterman
Prime Architect: Sinclair Hille Architects
Interior MEP Engineering: Engineering Technologies, Inc.