Quade Celebrates 28 Years at Sinclair Hille Architects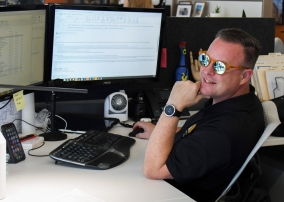 Quade Celebrates 28 Years at Sinclair Hille Architects
Happy 28th Anniversary David!
David Quade, AIA, NCARB, CSI, Principal, is celebrating his 28th year at Sinclair Hille Architects (SHA). He graduated from the University of Nebraska-Lincoln (UNL) with a Master of Architecture in 1994. Starting part time in the summer of 1994, David was hired to build a physical model for the new Papillion Public Library project. In 1995 he was offered a full-time position as a "Job Captain" which was the official job title for unlicensed architectural interns at the time. His first full time project was an addition and renovation of Building #635 at the Lincoln Air Base for the Nebraska Air National Guard, known as The Composite Support Facility.
Being an architect trained in many areas, David takes pride in his meticulous attention to detail and clarity in the documentation of quality construction documents. He takes an active hands-on approach, seeing a project to the very end. David believes he is "never exempt from learning" and approaches each project with humility. His goals are to continuously improve and provide the best client service. He enjoys gaining insight from contractors and those in the field with the intent to learn something new with every project. While talking about David's experience and commitment to learning, he stated, "Much of the knowledge I've gained is a direct result of the many opportunities I've had".
One of David's current projects is the renovation of the former NBC / Wells Fargo Center at 13th and O Street in Lincoln, NE into what is now called Union Bank Place for Union Bank and Trust (UBT), scheduled to open in mid-August. Having worked with UBT for over 25 years, his first UBT project was their branch facility on the southwest corner of 13th and O St. which is relocating to Union Bank Place.
What has been your most memorable moment at SHA?
"I was conducting an observation report for the newly added bell tower at St. Gregory the Great Seminary in Seward, NE on a very cold and windy day. Masons were working at the top of the three-story scaffolding, and I started to climb for my observation. A third of the way up, my knees locked, and hands got sweaty. Unable to climb any further, I worked my way back to the ground. While I worked at 'warming up,' the masons climbed down for break. Not wanting them to think I couldn't 'do the job,' I did what it took to get to the top before their break was over. We all had a good laugh at the event when they went back to work. Sometimes respect is earned. That was one of those days."
What do you like most about your career?
"I enjoy the wide variety of project types and working with new contractors to gain new knowledge. It is very rewarding to be at this point in my career to know what I'm doing and to be able to mentor the younger generation of Architects."
Thank you, David Quade, for 28 years of providing the best client service, an exceptional level of high-quality work and leadership at Sinclair Hille Architects!