Faith Lutheran holds groundbreaking ceremony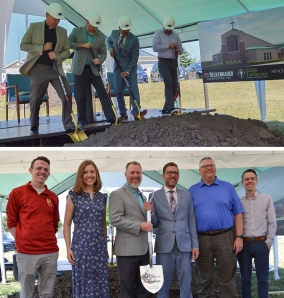 Faith Lutheran holds groundbreaking ceremony
On June 25, 2023 Faith Lutheran hosted a groundbreaking ceremony to celebrate the commencement of their new sanctuary. The event drew a large crowd of enthusiastic supporters who joined together in a beautiful service prior to the groundbreaking.
The new addition will include a 12,000 square foot dedicated space for worship including a sanctuary, prayer chapel, nursery, and multi-purpose features to utilize space for non-worship activities and four additional classroom spaces and multi-purpose fellowship spaces for connecting with the community.
Congratulations to the entire project team including Faith Lutheran, Sinclair Hille Architects, R.O. Youker Inc, Engineering Technologies Inc – ETI, REGA Engineering Group Inc, C&C Consultants, and Beckenhauer Construction Inc.