Cornhusker Bank's New Headquarters Open at 84th and O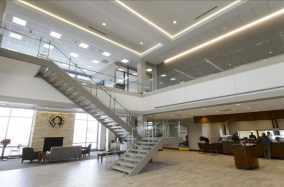 Cornhusker Bank's New Headquarters Open at 84th and O
Cornhusker Bank's new headquarters at 8310 O Street is now open.
The new headquarters was built with the environment in mind. A master computer system controls lighting, heating and air conditioning, self-monitoring for maximum energy efficiency.
The Grand Opening Celebration for Cornhusker Bank customers will take place on Saturday, January 14, 2017.