Concordia University STEM Facility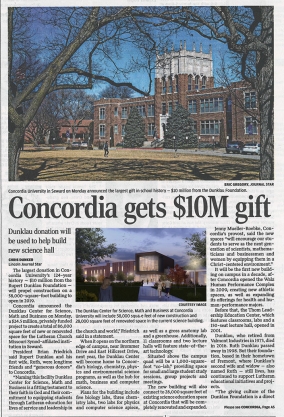 Concordia University STEM Facility
Concordia gets $10M gift

Dunklau donation will be used to help build new science hall
CHRIS DUNKER Lincoln Journal Star
The largest donation in Concordia University's 124-year history — $10 million from the Rupert Dunklau Foundation - will propel construction on a 58,000-square-foot building to open in 2019. Concordia announced the Dunklau Center for Science, Math and Business on Monday, a $24.5 million, privately funded project to create a total of 86,000 square feet of new or renovated space for the Lutheran Church Missouri Synod-affiliated institution in Seward.
President Brian Friedrich said Rupert Dunklau and his first wife, Ruth, were longtime friends and "generous donors" to Concordia.
"Naming this facility Dunklau Center for Science, Math and Business is a fitting testament to their faith in God and their commitment to equipping students through Lutheran education for lives of service and leadership in the church and world," Friedrich said in a statement.
When it opens on the northern edge of campus, near Brommer Drive and East Hillcrest Drive, next year, the Dunklau Center will become home to Concordia's biology, chemistry, physics and environmental science programs, as well as the hub for math, business and computer science.
Plans for the building include five biology labs, three chemistry labs, two labs for physics and computer science apiece, as well as a gross anatomy lab and a greenhouse. Additionally, 11 classrooms and two lecture halls will feature state-of-the-art technology.
Situated above the campus quad will be a 1,000-square-foot "co-lab", providing space for small and large student study sessions, group projects and meetings.
The new building will also connect to 28,000 square feet of existing science education space at Concordia that will be completely renovated and expanded.
Jenny Mueller-Roebke, Concordia's provost, said the new spaces "will encourage our students to serve as the next generation of scientists, mathematicians and businessmen and women by equipping them in a Christ-centered environment. It will be the first new building on campus in a decade, after Concordia opened the Walz Human Performance Complex in 2009, creating new athletic spaces, as well as expanding its offerings for health and human-performance majors.
Before that, the Thorn Leadership Education Center, which features classrooms, labs and a 150-seat lecture hall, opened in 2001.
Dunklau, who retired from Valmont Industries in 1973, died in 2016. Ruth Dunklau passed away in 1998. But their foundation, based in their hometown of Fremont, where Dunklau's second wife and widow - also named Ruth - still lives, has continued to support Lutheran, educational initiatives and projects.
"The giving culture of the Dunklau Foundation is a direct reflection of Rupert's philanthropic philosophy - you give because of your love and faith in Jesus Christ and because you acknowledge that God will continue to outgive you," said the foundation president Delmer Toebben.
A public groundbreaking on the new building is scheduled for April 5.
When it opens Dunklau Center will become the third science and math building to be opened by the liberal arts college in the Lincoln area since 2014.
Union College opened the $14.5 million, 55,000-square-foot Krueger Center for Science and Mathematics that year, marking the first academic building opened by the Seventh-day Adventist school since 1980.
The Duane W. Acklie Hall of Science, a $29 million project at Nebraska Wesleyan University and the first academic building since 1981, will become home to Methodist-affiliated university's biology, chemistry and psychology departments when it opens next year.