Randolph Elementary Third Graders Celebrate Arbor Day 2017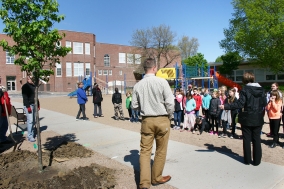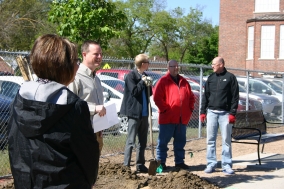 Randolph Elementary Third Graders Celebrate Arbor Day 2017
Each year, Sinclair Hille Architects donates a tree to celebrate and honor Arbor Day in our community. Today an enthusiastic group of 3rd graders at Randolph Elementary School attended the tree planting ceremony in celebration of this important event in Nebraska history.
David Quade talked to the group of 3rd graders about the history of Arbor Day and asked the children to share their best guess on how many trees were planted on the very first Arbor Day in 1872. After many answers were given by the students, it was revealed that nearly one million trees were planted on that day.
Thank you to Randolph Elementary for sharing this special event that takes place in our community, state and throughout the world.